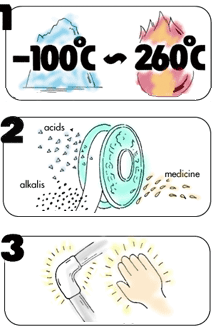 Features & Benefits

(1)Excellent sealing performance even at high temperature.
(2)Resistant to acids, alkalis ,and other solvents.
(3)Clean and neat finish, easy to install, not smearing your hands.

Applications

Sumiflon™ Nejiseal are used as sealing materials for screw joint

1. Do not attempt to apply Sumiflon™ Nejiseal to any applications involving with gas.
2.Do not attempt to use of molten alkali metal and trifluoride chlorine since they may damage Sumiflon™ Nejiseal.
3.Do not attempt to burn Sumiflon™ Nejiseal and its reel since they may generate toxic gas when burnt.
How To Use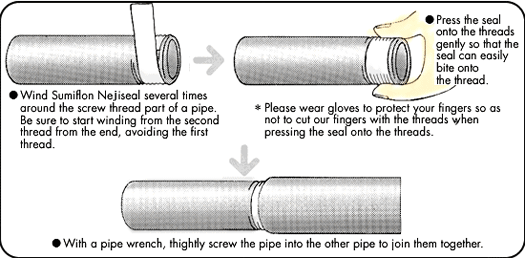 Nominal Diameter & Winding Number
Please adjust the number of winding according to nominal diameter of each screw.
Nominal Diameter
Sumiflon™ Nejiseal
Thickness (m/m)
Width (m/m)
Winding Number
2 inch (50A) min.
0.1
13
2-3
3 inch (80)
0.1
13
3-4
If the screw thread part is rough, please wind extra.
Standard Sizes
| Thickness (m/m) | Width (m/m) | Length (m) |
| --- | --- | --- |
| 0.1 | 13 | 5,10,15,20 |
| 0.1 | 8 | 5,10 |
Caution
※Some chemicals may damage the products. Contact us for further information beforehand.
※All statements and technical information contained herein are based on tests we believe to be reliable and only general properties are described, so that safety of each application by the users is not guaranteed.For safety reason, the users themselves shall determine suitability for their intended use.
※The users assume all responsibility for all damages that may be caused directly or indirectly when using the products.
All description herein are based on the data and information available at this time and may subject to change without notice.

Please contact us for details.
Functional Fluororesin,Sales Dept (Osaka)

81(6)6220-4321