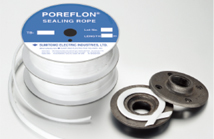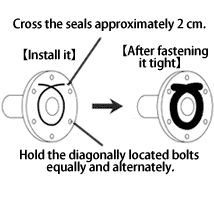 Features & Benefits

1. Soft gaskets made of fluoropolymers
2. Superb sealing performance!!
3. The adhesive side allows easy handling
4. Economical, since you can cut the products in the exact length you need.
5. 4 sizes available to meet various applications
6. Superior tensile strength
How to use
(1) Clean the flange surface of the object to be applied
(2) Peel the release liner and expose the adhesive liner. Apply the adhesive liner and press it onto the center part of the flange surface. Overlap the cut ends by 1 to 2 cm at a bolt position.
(3) Tighten each bolt evenly. (Refer to the picture on the right.) Be sure to do it diagonally
This is the sizing chart so that you can determine the correct size of Sumiflon™ Mushseal to be used in your application.
| | | | |
| --- | --- | --- | --- |
| Size of Flange | - 500A | 500 - 1000A | 1000 - 1500A |
| Size of Mushseel | MS-3 to 9 | MS-6 to 12 | MS-9 to 12 |
The table below shows standard thickness and width of Sumiflon™ Mushseal after compression.
Item Name
Thickness
After Compression (mm)
Width
After Compression (mm)
MS-3
0.2mm
5mm
MS-6
0.4mm
8mm
MS-9
0.7mm
12mm
MS-12
1.0mm
17mm
Applications
Sumiflon™ Mushseal are used as piping flange gaskets, piping sealants, and sealing gaskets for tanks, casings, ducts, pressure vessels, heat exchangers, cooling towers, reaction vessels, various kinds of lining vessels, and large diameter equipment
・ Do not attempt to use Sumiflon™ Mushseal for any applications other than mentioned above.
・ Do not attempt to use Sumiflon™ Mushseal for any application involving with city gas, LPG, and toxic gas.
・Do not attempt to burn Sumiflon™ Mushseal and its reel since they may generate toxic gas when burned.
Properties
Item
Properties
Melting Point
327℃
Minimum
Constriction
3mm・・・・・75kg/cm
6mm・・・・100kg/cm
9mm・・・・125kg/cm
12mm・・・・150kg/cm
Max. Operating
Pressure
Gas・・・・・20kg/cm2
Liquid・・・・・50kg/cm2
Operating
Temperature
-100℃~+260℃
Chemical
Resistance
Resistant to acids, alkalis, and other solvents
Do not attempt to use fused alkali metal and high-temperature fluorine since they may damage Sumiflon™ Mushseal.
Sizes
Item Name
Width (mm)
Length (m/reel)
Remarks
MS-3
3mm
30m
Thickness is approximately half the width.
MS-6
6mm
15m
MS-9
9mm
8m
MS-12
12mm
5m
※The following products are also available upon request.
Cord-shaped:16 mm and 20 mm (width)
Tape-shaped:1 mm (thickness)×20 mm, 30 mm, or 50 mm (width)
3 mm (thickness) 20 mm, 30 mm, or 50 mm (width)
※Standard packaging: 10 reels/box
Economical Advantages
Sumiflon™ Mushseal are free-size and cord-shaped products.
The products can be cut and used in the exact length you need without loss of the products.
The cost of the products can be reduced by approximately 50%, compared with conventional products.
Caution
※Some chemicals may damage the products. Contact us for further information beforehand.
※All statements and technical information contained herein are based on tests we believe to be reliable and only general properties are described, so that safety of each application by the users is not guaranteed. For safety reason, the users themselves shall determine suitability for their intended use.
※The users assume all responsibility for all damages that may be caused directly or indirectly when using the products.
All description herein are based on the data and information available at this time and may subject to change without notice.

Please contact us for details.
Functional Fluororesin,Sales Dept (Osaka)

81(6)6220-4321