Sumiflon™ Cladding was mainly developed for cookware using diffarent kind of metal plates. The products which join Sumiflon™ Coated Aluminum with stainless steel are used for electric rice cookers with inducution heating. The characters are as follows.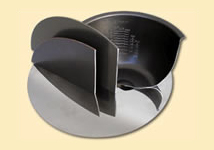 Features & Benefits

(1)The products are firmly covered with fluororesin by our special etching process, and metal plates are firmly joined together with our original technique, so you can press molding into the desired shape.
(2)The waste or stamping out is little, different from rolling plates.
(3)We uses PTFE (Polytetrafluoroethylene) or PFA as fluororesin. The resin has superior characters which are nonstick, heat-resistant(continuous use under 260℃ is available.) and corrosion-resistant.

Industry used

Home Appliance for Cooking, Cookware

Applications

Inside pans of rice cookers and electric jars, containers of grill pans, hot plates, flying-pans, pans
Properties
The range of possibility of manufacturing of Sumiflon™ Cladding is as follows:
Thickness: 1.5~3.5mmt
Diameter: 300~430mmφ
Please contact the Service Desk as follows, for requests on out of the range than above.
Caution
※When burning fluoropolymer, fluoride gas will be produced. Please do not burn it at any cases. Upon use, please make sure the appliance evaluation by yourself for the safetly.
※We cannot take any responsibility when accidental or indirect loss has occurred.
※The contents of this website is based on materials, information and data available now, thus they can be revised by new knowledge.

Please contact us for details.
Functional Fluororesin,Sales Dept (Osaka)

81(6)6220-4321