Soft roller is made by set up elastic rubber layer and fluororesin layer on metal or base of thermal resistant plastic belt and by using an individual complex processing technology, it is able combined from some flexible layers. It is possible for heating and pressurizing rollers of color printer or multifunction printer to realize necessary high image property and high durability. Elastic rubber layer has some kinds of thermal conductivity, and fluororesin layer has a PFA tube that has a high mold-releasing characteristic and be produce by coating process. For heating roller, each its layer is allowed to have conductivity, and the elastic layer is an inverse crown shape that make by an individual casting method without using abrasion.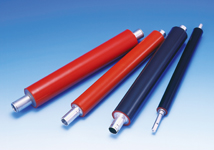 Industry used

OA machine field

Applications

Fixing roller for toner of digital picture kind of color printer or mutifuction printer.
Properties
| | |
| --- | --- |
| Base layer | Metal pipes, metal shafts, metal sleeves, thermal conductivity plastic belt. |
| Elastic rubber layer | Silicon rubber,Thermal conductivity 0.3-1.6W/mk. |
| Fluorine surface | PFA tube,PFA/PTFE(PolyTetraFluoroEthylene) coating. |
Outer Diameter:φ14-65mm
Total length: A4, A3 size
Please contact the Service Desk as follows, for requests on out of the range than above.
Caution
※When burning fluoropolymer, fluoride gas will be produced. Please do not burn it at any cases. Upon use, please make sure the appliance evaluation by yourself for the safetly.
※ We cannot take any responsibility when accidental or indirect loss has occurred.
※The contents of this website is based on materials, information and data available now, thus they can be revised by new knowledge.

Please contact us for details.
Functional Fluororesin,Sales Dept (Tokyo)

81(3)6406-2639